Located a few steps from Montegiorgio, "I Sassi di San Giuseppe" is a charming guest house surrounded by the typical Marche landscape. Historical and architectural witness, the structure is composed of several buildings renovated with care in a traditional style. It offers independent guests mini-apartments, including all amenities, fully equipped kitchen and air conditioning.
Three apartments are available. A dominant color features each apartment with views of the garden and the surrounding mountains. All apartments are equipped with a full kitchen, with stove, refrigerator, microwave and espresso machine. All rooms have independent heating and air conditioning.
The location is perfect. It is not too far from the mountains for pleasant walks and not too far from the sea. We particularly enjoyed the relaxing atmosphere that emanates from this location. You will feel welcome here.
Excellent location, easily accessible. The air-conditioned apartments are functionally furnished, 10 on 10 for the condition of the furnishings and cleanliness. Price / quality excellent.
The place is charming. The house has been carefully restored with a surprising result. Advices for exploring the region were very valuable. The beautiful pool, clean, well maintened and cared for in every detail.
The structure is very comfortable. The place is quiet and peaceful, the garden is large and well maintened, the view is unobstructed, the surroundings are beautiful, and sea is near. The house is beautiful. We had an awesome time.
It 's a typical nineteenth-century residence of the Marche countryside, beautifully restored, with a large private park, a large terrace overlooking the valley and offering a view that reaches the sea. It can accommodate up to 8 people: the first floor has a master bedroom and a room for 3 people in single beds. On the ground floor, there is a bedroom with a double bed and a single bed. Two bathrooms on the ground floor with shower and one on the first floor with a hot tub. It has a large living room with sofa, television and a large dining table. The kitchen is fully-equipped, even with microwave, oven, electric grill and dishwasher. The kitchen has an exterior door that gives direct access to the large terrace where you can eat on the table and chairs set. Guests also have a laundry room with washing machine.
*LOW SEASON: From 08/01 to 6/04 ⋅ From 11/4 to 20/4 ⋅ From 26/4 to 27/4 ⋅ From 02/05 to 01/06 ⋅ From 09/09 to 08/12
*MID SEASON: From 07/04 to 10/04 ⋅ From 21/04 to 25/04 ⋅ From 28/04 to 01/05 ⋅ From 02/06 to 14/07 ⋅ From 26/08 to 08/09 ⋅ From 09/12 to 22/12
*HIGH SEASON: From 15/07 to 04/08 ⋅ From 19/08 to 25/08
*VERY HIGH SEASON: From 05/08 to 18/08 ⋅ From 23/12 to 07/01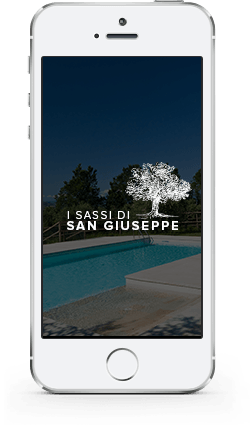 Send us an email for any special requests,
we will answer you as soon as possible.
Contrada San Giuseppe,4 – 63833 Montegiorgio (FM), ITALY
info@isassidisangiuseppe.it
P.iva 01628860445